Insolvency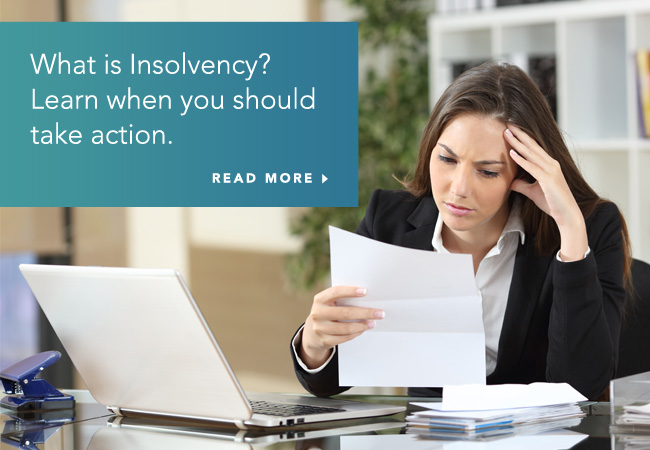 Worried you might lose your business, your livelihood or your home?
If you are the owner or director of a company that cannot meet its financial obligations you might be trading insolvent and you are right to be very concerned.
Trading while insolvent carries very severe penalties, including criminal charges and even possible jail terms, as well as impacting your family life and personal finances.
But what exactly does insolvency mean…and how do you know if your company is in trouble?
The warning signs you might be in trouble
Warning signs you might be in trouble include any of the following:
Cash flow problems, including poor or negative cash flow, increasing debt, and when your liabilities exceeding your assets
Management, accounting and budgeting problems: board disputes and director resignations, loss of management personnel, lack of cash-flow forecasts and other budgets, incomplete financial records and/or disorganised internal accounting procedures
Banking and finance problems: problems obtaining finance, reaching your overdraft limit or defaulting on your loans or interest payments
ATO problems: overdue taxes and superannuation liabilities, possibly resulting in hefty fines and legal action
Creditor problems: Inability to pay your creditors within their terms and timeframes, instalment arrangements to pay your debts, or your suppliers placing your company on cash-on-delivery (COD) terms
Legal problems: solicitors' letters, demands, summonses, judgements or warrants issued against your company
Generally, if you think you might be trading insolvent, you probably already are.
And you need to take action right now.
How We Can Help You
Insolvency is very serious and is something that all company owners and directors should avoid at all costs. However, if you think your company might be insolvent, please don't panic.
If you think your business might be insolvent the absolutely worst thing you can do is to do nothing at all, bury your head in the sand and keep on trading and accruing debt. Even if insolvency is inevitable, with the right legal advice you can minimise the expense and the pain.
With our 5 step proven process we help companies just like yours to stay in business.
And we can also help people just like you avoid bankruptcy.
Your Five Steps to Financial Freedom
At JHK Legal our 5-step proven process ensures your case will be dealt with:
…as quickly, professionally and efficiently as possible;
…delivering the best-case scenario for your particular situation;
…and all at a fixed fee.
Step 1   Consultation – We're Here to Help, Not to Judge
As soon as you contact JHK for your initial free consultation your case becomes a priority, because we know just how crucial time is when you're facing possible insolvency.
We sit down with you to discuss every detail about your case, including any deadlines that might be approaching, in a totally confidential and non-judgmental environment, ensuring we have all the facts so we can make the best decisions on your behalf.
We'll also help you understand the pertinent documents we need and if you don't know the answers to our questions we'll help find them for you.
Step 2   Strategy & Quote – Fixed Fee Service
With JHK Legal you don't need to worry about legal bills mounting up on top of your other debts because we offer all our clients a fixed fee service.
We let you know this fee up front so there are no nasty surprises. You can call us at any time to ask any questions or to check on the status of your case…at no extra charge.
Step 3   Case Preparation & Introduction to Trusted Partners
At JHK Legal we want to find and offer you the best solution for your particular situation, which is why we work as a team with you, within our office and with our trusted partners.
We will present our proposed plan of action, ensuring you are comfortable with the potential outcomes and understand any actions we may take on your behalf.
Step 4   Outcome—We Lift the Weight off Your Shoulders
Our expert team work quickly to deliver the best case scenario for your situation. Everything is done with your best interests in mind, to expedite your case and find the solution that works for you and your company.
We lift the weight off your shoulders, offering you an opportunity to rebuild, rebrand or start again fresh, without the stress and strain of debtors constantly chasing you.
Step 5   Ongoing Support—We Help You Find Your Way
Regardless of the outcome of your insolvency case, we put you back in control of your life again and help you find your way.
Our team are always available to provide ongoing advice to ensure you don't find yourself in an insolvency situation again.
At JHK Legal, we're here to help even when the future looks bleak.
Contact us to start the process of re-gaining control.